Reproductive care for people of all ages: Regulate the menstrual cycle. Improve sexual health. Balance hormones.
MENSTRUAL DISORDERS
---
Get help with painful period, menstrual cramps, irregular period, lack of period, pre-menstrual symptoms and more.
SEXUAL PROBLEMS
---
Boost libido, help with premature ejaculation, increase sperm count, etc.
MENOPAUSE
---
Get relief from many menopauseal symptoms as hot flushes, night sweats, low mood and anxiety.
MALE/FEMALE INFERTILITY
---
Increase your chances to get pregnat or getting support while going through IVF. Discover more by clicking here.
PREGNANCY
---
Natural solutions to tackle some less enjoyable aspects to being pregnant. Discover more by clicking here.
POST-PARTUM
---
Repair and re-align body and mind's energies to restore balance and wellness
HOW CAN ACUPUNCTURE HELP?
"Acupuncture is a safe and effective treatment to PCOS. Acupuncture therapy may have a role in PCOS by: increasing of blood flow to the ovaries, reducing of ovarian volume and the number of ovarian cysts, controlling hyperglycaemia, reducing cortisol levels. " Source: Lim DC et al
"It has been shown that acupuncture treatment may specifically be of benefit in people with endometriosis by providing pain relief, reducing inflammation, regulating levels of prostaglandine."
"Acupuncture can be effective in treating hot flushes, and also anxiety and depression related to menopause."
"Recent systematic reviews of randomised controlled trials found that both acupuncture and acupressure are effective for primary dysmenorrhoea, providing significantly more pain relief than pharmacological treatments."
TREATMENTS
Treating cause, promoting health from within.
Chinese Medicine has an holistic approach to disease. Treatments focus on the whole person rather than the disease. This is why during the initial consultation you will spend 45-60 min to go over your health history in depth. This will be followed by an in-clinic acupuncture treatment.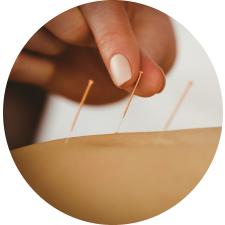 ACUPUNCTURE
Acupuncture is a gentle and effective treatment to restore and maintain the body's physical and emotional balance. The needles are single use, sterile, no-toxic and very fine so to create little or no discomfort on insertion.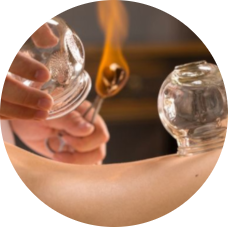 CUPPING
Glass or silicone cups are applied to the skin to create suction. This increases circulation and blood flow in the area. Cupping is mainly used to soften muscles and to release toxins.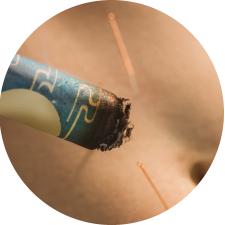 MOXIBUSTION
A warming herb is applied directly or indirectly on acupuncture points, along acupuncture channels or on specific areas of the body (eg. abdomen). The heat from the herbs penetrates the skin and this promote circulation of blood and fluids. This therapy is used to warm the body, to expel coldness and to invigorate Qi and Blood.
CONTACT ME
Schedule your appointment online or contact me