Traditional Chinese Medicine has been used for thousands of years to treat the root that causes pain. Acupuncture is recommended by NICE for treating chronic pain: osteoarthritis, shoulder, back and neck pain, migraines and tension type headaches. For more information see NICE guidelines.
INSOMNIA, STRESS, ANXIETY
Stress, anxiety and depression affects each of us from time to time. Acupuncture is very effective to promote relaxation and a general sense of well-being. Whether you're concerned about a big work project or a big life change, having acupuncture sessions can help to minimise your emotional and psychological strain and bring you a greater sense of peace.
Acupuncture is great in making the body feel balanced and giving patients a general feeling of well being. This is why a lot of patients continue to have acupuncture even after their original complaint is gone.
The World Health Organisation recognises more than 50 conditions to be effectively treated by Acupuncture. The British Acupuncture Council provides all the latest research and evidence-based facts on acupuncture.
TREATING THE ROOT, NOT ONLY THE SYMPTOMS
Chinese Medicine takes a holistic approach to health. Health is a state of optimal balance, Chinese Medicine works on understanding the body unbalances and to restore the health by restoring balance between all the body systems.
Practitioners look for patterns through observation, questioning, palpation if relevant to diagnosis, in addition to feeling the pulse and looking at the tongue. Information that seems unrelated such as body temperature, sleeping patterns and diet can together point to a pattern from which diagnosis and a treatment plan are developed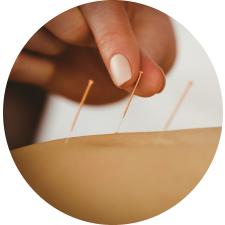 ACUPUNCTURE
Acupuncture is a gentle and effective treatment to restore and maintain the body's physical and emotional balance. The needles are single use, sterile, no-toxic and very fine so to create little or no discomfort on insertion.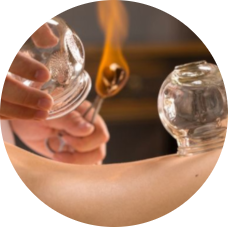 CUPPING
Glass or silicone cups are applied to the skin to create suction. This increases circulation and blood flow in the area. Cupping is mainly used to soften muscles and to release toxins.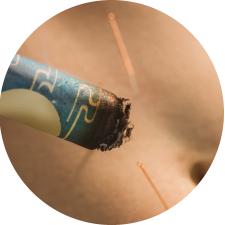 MOXIBUSTION
A warming herb is applied directly or indirectly on acupuncture points, along acupuncture channels or on specific areas of the body. The heat from the herbs penetrates the skin and this promotes circulation of blood and fluids. This therapy is used to warm the body, to expel coldness and to invigorate Qi and Blood.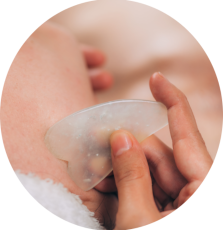 GUASHA
Gua-sha is a natural, alternative therapy that involves scraping the skin with a massage tool to improve circulation. This healing technique stimulates microcirculation of the soft tissue, which increases blood flow and by doing it offers a unique approach to address musculoskeletal pain.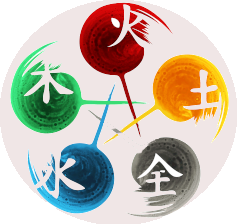 FIVE ELEMENTS
According to Five Element Acupuncture, everybody has a component of the 5 Elements (Fire, Earth, Metal, Water, Wood) in their constitution and when one or more elements are unbalanced, symptoms and diseases manifest. Once the balance of the Elements is established, optimal health and well-being could be achieved.
CONTACT ME
Schedule your appointment online or contact me.