FACIAL ACUPUNCTURE
REJUVENATION
Try the ultimate anti-aging treatment. 100% natural. Facial Acupuncture is a true rejuvenation treatment for the skin and tissues of the face, neck and body.
---
With time tension in facial, jaw, scalp and neck muscles lead to sagging, wrinkling, and dullness that many wrongly attribute to aging. Acupuncture works by releasing tensions in facial tissues that suffer from stress, anxiety and worry generating a smoother, brighter, uplifted and sculpted appearance.
---
Ultra-fine needles are inserted into or around specific acupuncture points and muscle points. The procedure promotes the collagen production, skin elasticity, puffiness removal, and the skin tone improvement. It also increases circulation promoting oxygen and nutrient to the skin. As result your skin will literally glow with health.
---
A series of 6-8 regularly treatments is recommended for best results. I will avoid facial areas treated with Botox within 3 months, or fillers within 6 months.
HOW CAN ACUPUNCTURE HELP?
"Acupuncture is a safe and effective treatment to PCOS. Acupuncture therapy may have a role in PCOS by: increasing of blood flow to the ovaries, reducing of ovarian volume and the number of ovarian cysts, controlling hyperglycaemia, reducing cortisol levels. " Source: Lim DC et al
"It has been shown that acupuncture treatment may specifically be of benefit in people with endometriosis by providing pain relief, reducing inflammation, regulating levels of prostaglandine."
"Acupuncture can be effective in treating hot flushes, and also anxiety and depression related to menopause."
"Recent systematic reviews of randomised controlled trials found that both acupuncture and acupressure are effective for primary dysmenorrhoea, providing significantly more pain relief than pharmacological treatments."
TREATMENTS
Treating cause, promoting health from within.
Chinese Medicine has an holistic approach to disease. Treatments focus on the whole person rather than the disease. This is why during the initial consultation you will spend 45-60 min to go over your health history in depth. This will be followed by a 30 min in-clinic acupuncture treatment.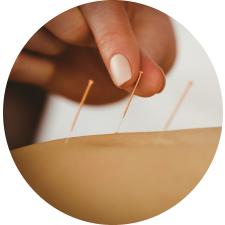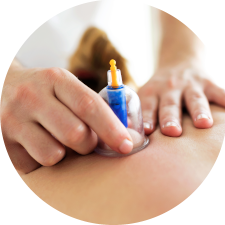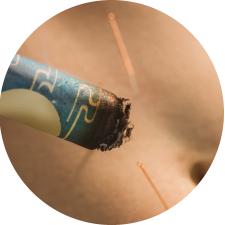 ACUPUNCTURE
Acupuncture is a gentle and effective treatment to restore and maintain the body's physical and emotional balance. The needles are single use, sterile and extremely fine so they usually create little or no discomfort on insertion.
CUPPING
Glass or silicone cups are applied to the skin to create suction. This increases circulation and blood flow in the area. Cupping is mainly used to soften muscles and to release toxins.
MOXIBUSTION
A warming herb is applied directly or indirectly on acupuncture points, along acupuncture channels or on specific areas of the body (eg. abdomen). The heat from the herbs penetrates the skin and this promote circulation of blood and fluids. This therapy is used to warm the body, to expel coldness and to invigorate Qi and Blood.
CONTACT ME
Schedule your appointment online or give me a call. Home visits service for pregnant women available on request and by arrangement.